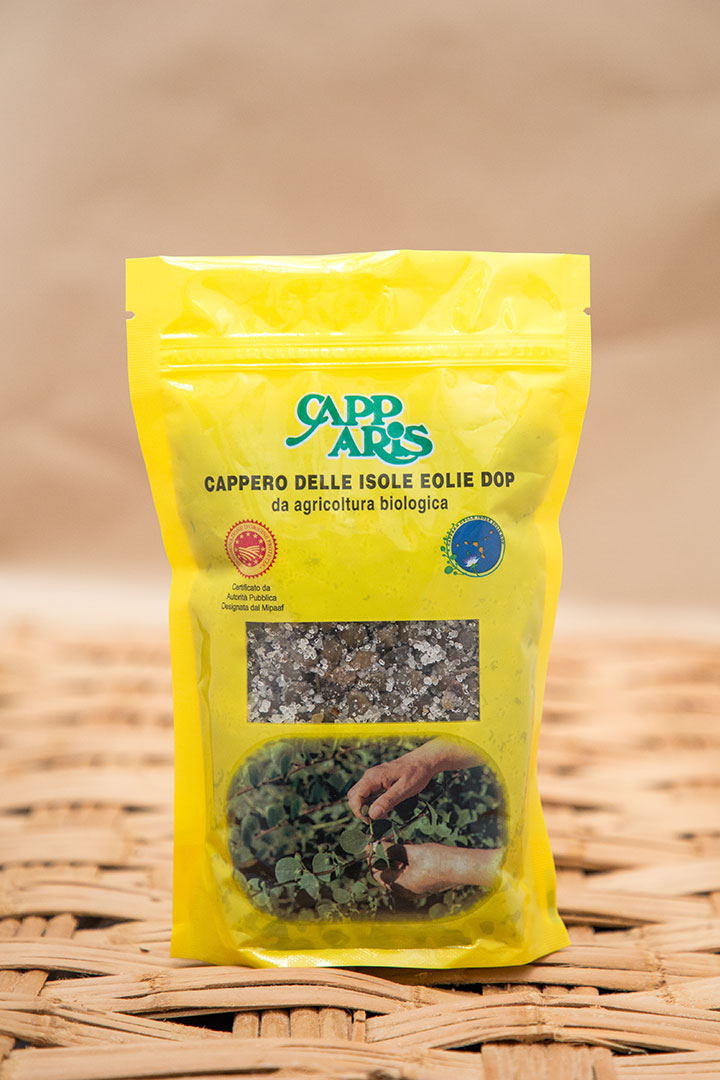 La Italiana Capers Sud sr l, certified organic for decades and proud to offer its customers also a recognized and certified DOP product. 500 g or 5 kg or in brine in buckets of various weights.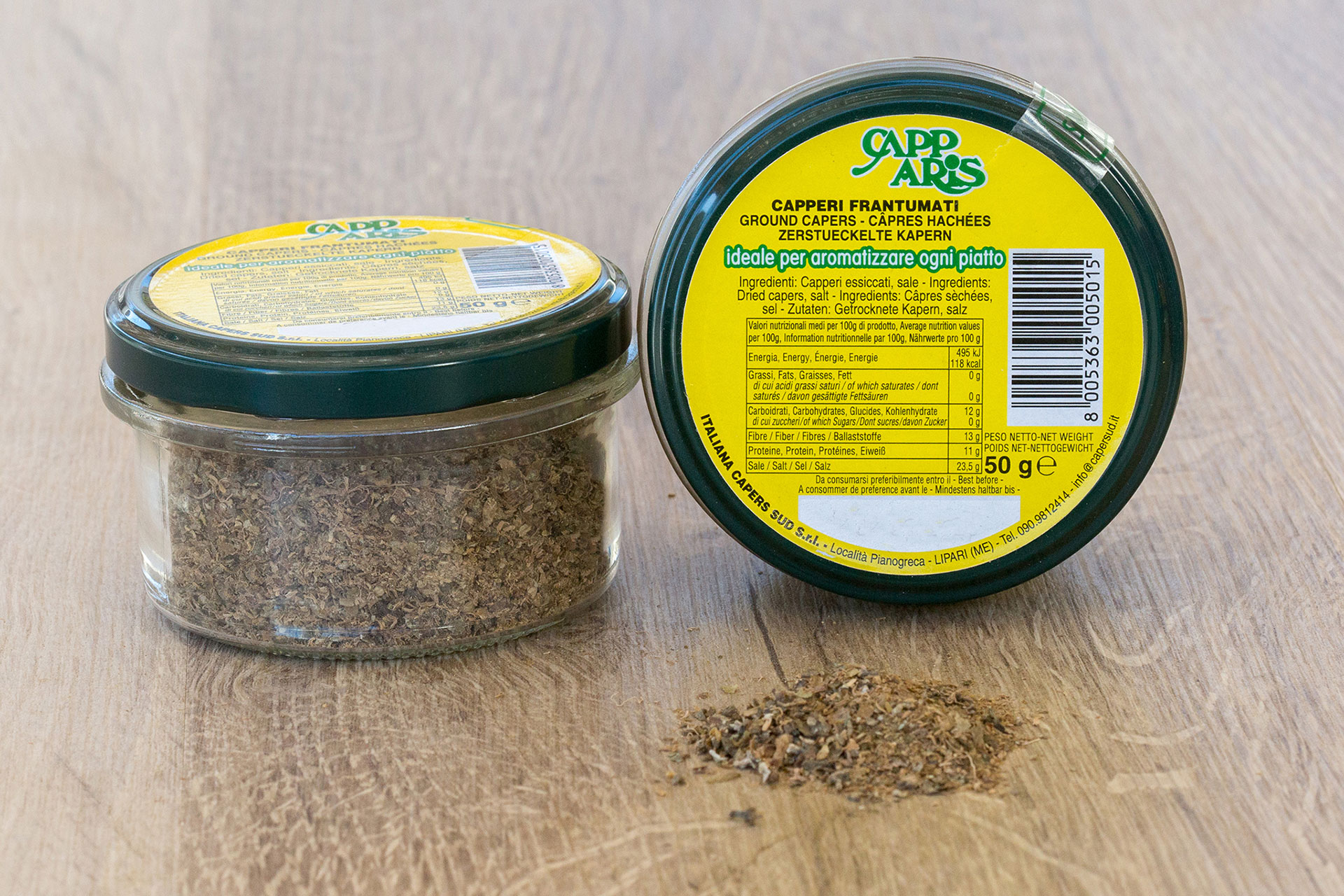 CRUSHED CAPERS
This is a new product that the company produces from dried capers using an innovative system that preserves intact and enhances their remarkable and unmistakable aromatic capacity. It is a seasoning, which keeps the scented notes of the caper unaltered and is characterized by ease of use, practical in dosage and versatile in use, suitable for multiple preparations, perfect for enriching numerous dishes. It is used on cold or hot ready-made dishes after cooking. Excellent on white meats, on grilled fish fillets. Also perfect on fresh, steamed and grilled vegetables, on bruschetta etc. When cooked, sprinkle with crushed dried capers and season with a drizzle of extra virgin olive oil. The company offers them in a 50 g glass jar or in bags of various weights.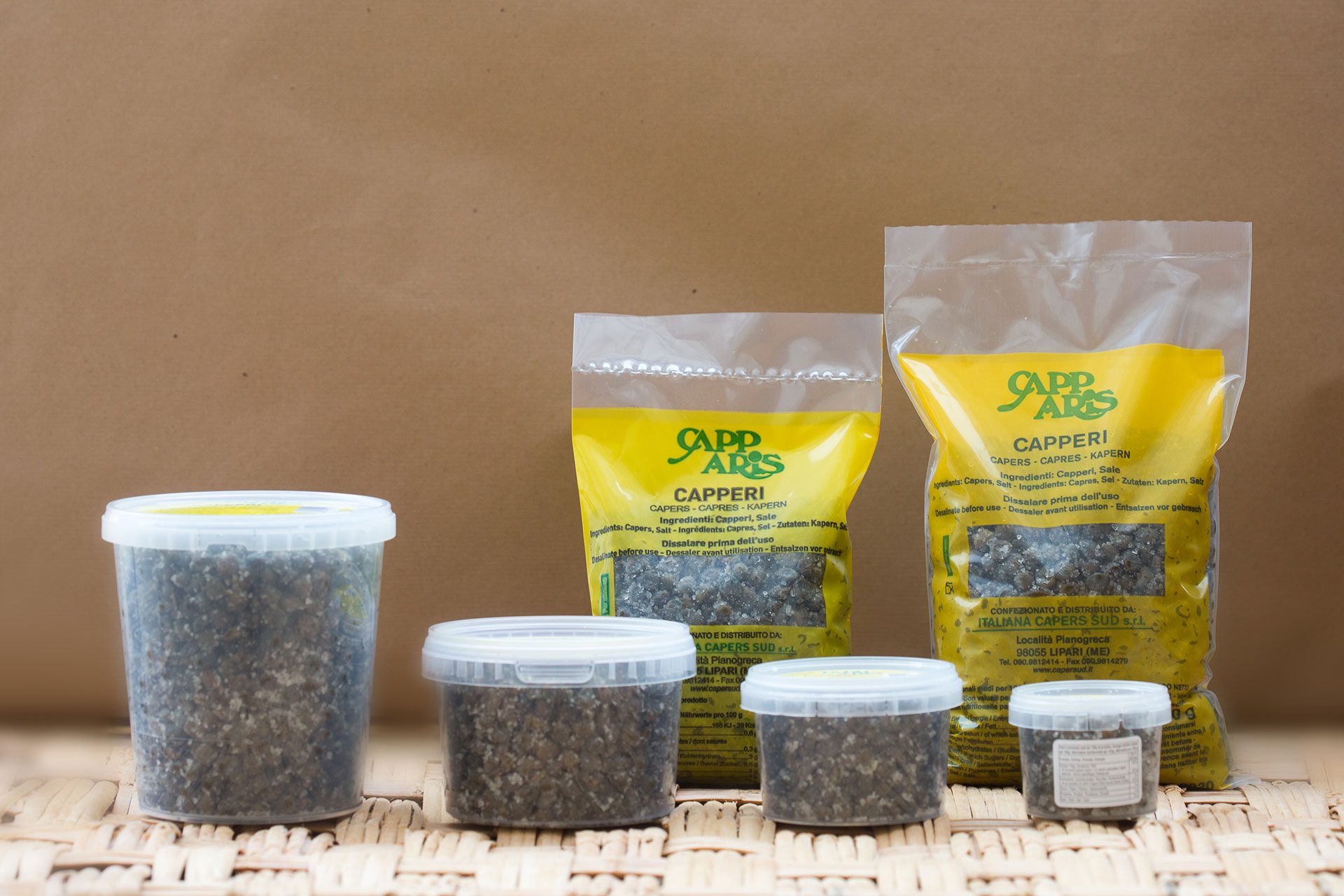 CAPERS IN SEA SALT
SALT The Italiana Capers Sud srl, in the wide range of capers offered for sale, also offers them in salt. This method of conservation respects the traditions handed down from generation to generation and allows the product to keep its peculiar qualitative and organoleptic characteristics intact over time, enhancing its aroma and also guaranteeing a longer conservation. The company offers them in plastic bags and buckets of various weights and different calibers, in order to satisfy any need of its customers. For correct use, desalt well before use.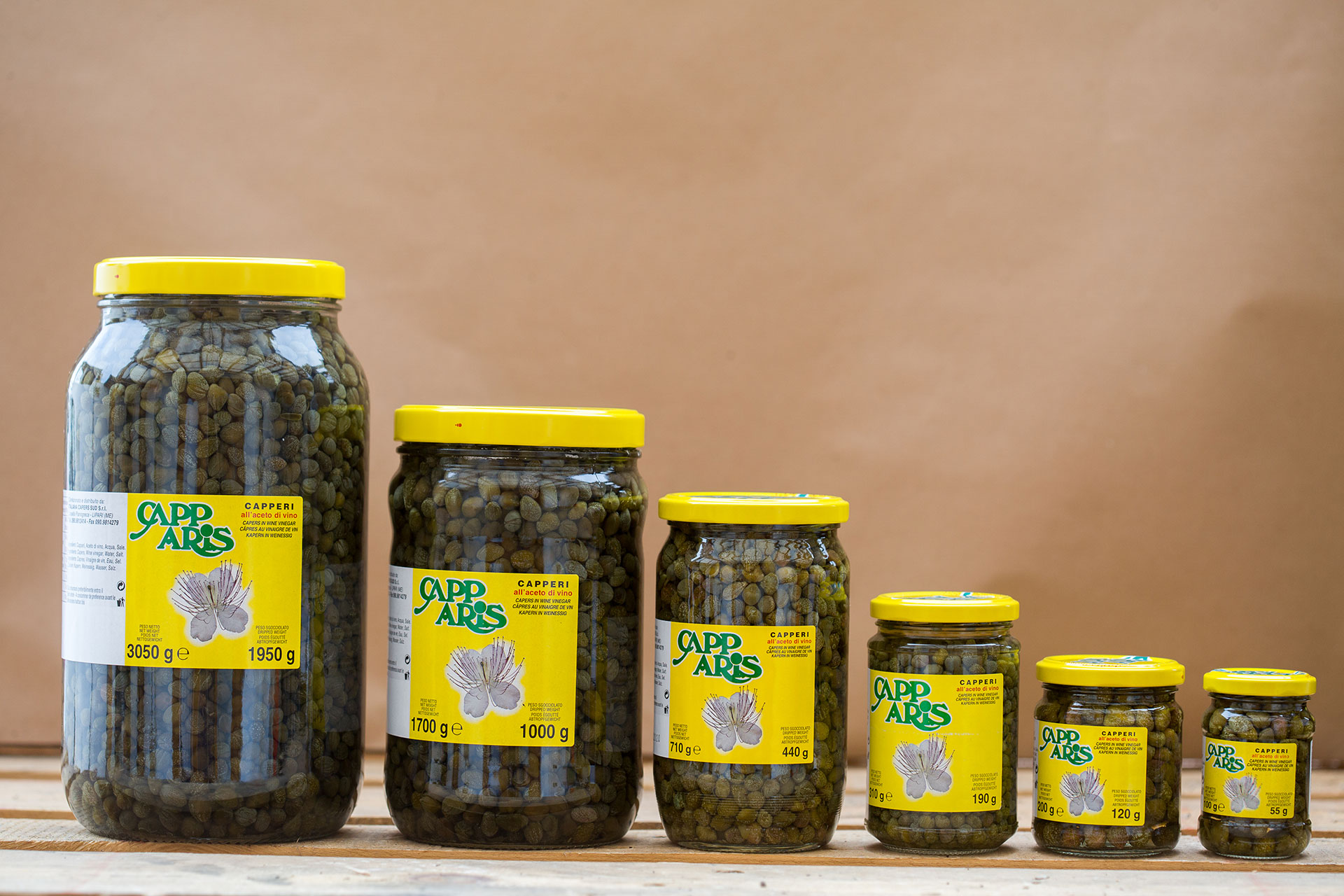 CAPERS IN WINE VINEGAR
The Italiana Capers Sud srl also offers capers in vinegar in various sizes and in various packages, in glass jars of various capacities. It is a versatile and practical product. Perfect for multiple uses in the kitchen, suitable for enriching different dishes giving them a unique and unmistakable taste. For correct use, rinse well before use.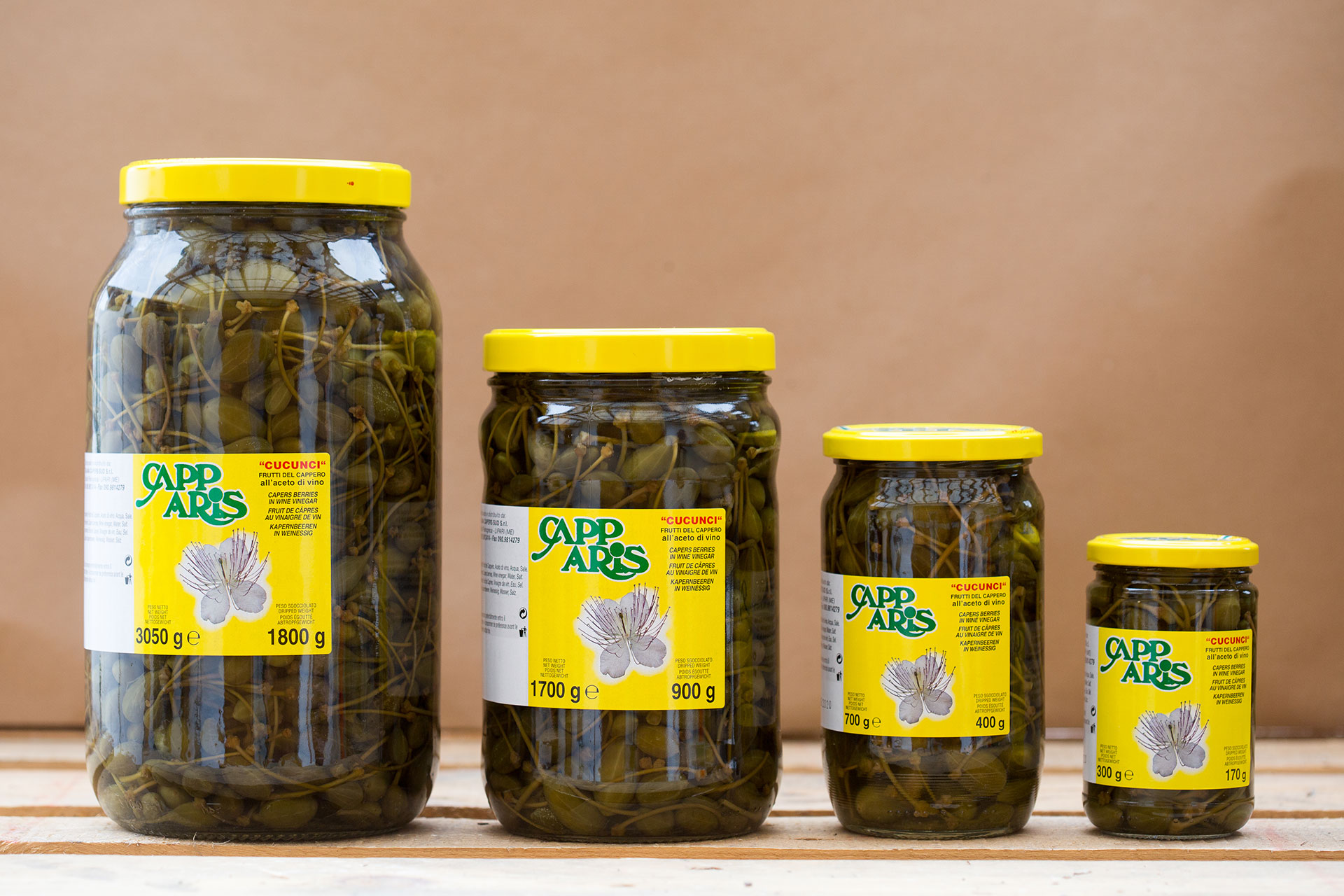 FRUITS OF CAPER WITH STEM "CUCUNCI"
The cucunci, the caper's wonderful fruits with a characteristic flavor and a pleasant and delicate taste. Excellent tasted on their own, ideal for preparing delicious aperitifs. Delicious as an accompaniment to cocktails and particularly suitable for the preparation of appetizers and tasty side dishes, they can also be used as a substitute for capers in the preparation of various recipes or to enrich tasty salads. The company offers them in wine vinegar in glass jars or plastic buckets of various capacities.
CAPERS IN BRINE
BRINE The Italiana Capers Sud srl, which has always been sensitive and attentive to the needs of consumers and is also able to supply a semi-finished product: capers in brine, which it packs in buckets and / or in plastic drums for food, of drained weight which varies from 3 to 180 Kg.
Single pack images

Crushed capers:

Capers in sea salt:
Cappero delle Isole Eolie PDO from organic farming:
Capers in wine vinegar: 
Cucunci: